Regular price
Sale price
$34.97 USD
Unit price
per
Sale
Sold out
USA: Get it between -

Enter The KUMA Experience
KUMA is a family run company with a passion for cooking, cutlery, and craftsmanship. The KUMA company was born out of a desire to create high quality kitchen knives that combine razor-sharp performance with high lightweight maneuverability all packaged in a beautiful aesthetic design. Being inspired by the artistic Japanese steelwork culture and its blade experts, a great focus on profile, unbelievable sharpness, minimalism, and comfort has been a defining factor in our products.

In short, KUMA strives to create the piece of kitchen cutlery that everyone loves to use. And that is what the KUMA Experience means to us.
What Knife Do You Currently Use In The Kitchen?
Are you tired of dull knives that cannot slice tomatoes without mashing them to pulp?
Does that clunky knife you currently use feel too heavy to perform smoothly and comfortably?
Is your blade not sturdy enough to properly press and smash a piece of garlic?

Do you really need one knife for carving your roast, another for delicately slicing and chopping vegetables, and a third for filleting fish?
Introducing Your New Elegant KUMA Chef's Knife!​
Elegant and razor sharp design. Finally, slice that tomato as thin as you like.
Ergonomic non-slip handle and lightweight materials maximize comfort and maneuverability.
3Cr13 stainless steel for razor sharp, durable, easy to sharpen and semi rust resistant performance. KUMA recommends to wash all knives by hand with a soapy cloth and dry immediately.
Comfortable bolster secures you from accidents.
Versatile chef's knife that belongs in all kitchens.
KUMA knife production undergoes intense quality control to thoroughly check each individual knife to ensure our quality standards are met. KUMA partners with an industry leading manufacturer with a long history in steel and cutlery.
The KUMA chef's knife excells in the following tests:
Sharpness
Lightweight
Non-slip and comfortable handle
Slices easily through tomatoes, onions etc.
Slices meat into thin fillet
This KUMA Chef's Knife is SOLD EXCLUSIVELY by KUMA Knives. Purchases through KUMA or KUMA Knives assure you that your product is Authentic.
★Buy With Confidence★
✔ Razor sharp out of the box - Here is your new kitchen knife with cutting edge sharpness and precision. Slice your meat and vegetables as thin as you like.

✔ Versatile and cuts like a dream - We created the perfect multi purpose cooking knife for YOU. Enjoy delicately slicing and chopping vegetables, carving meat, or even cutting through thin bone. A truly versatile experience.

✔ Japanese inspired profile - Your cooking should be a breeze. Combining lightweight materials, a smooth ergonomic handle, and an elegant Japanese inspired profile design, you will love the control and comfort offered by the KUMA Chef's Knife.

✔ Easy steel to sharpen- Our 3Cr13 stainless steel blade is soft yet durable, making it some of the easiest steel to sharpen. It handles corrosion well and resists various acids in daily use. During production the metal is tempered with careful timing to produce a fine balance between toughness and sharpness retention.

✔ Risk Free: Best knife for your money - A truly amazing knife should be attainable for everyone. Our 3Cr13 steel is a key material that allows us to create high quality knives that are affordable to all households. Go activate your exclusive KUMA Lifetime Limited Warranty for maximum coverage and enjoy a 30-day 100% Money-Back Guarantee! KUMA recommends to wash all knives by hand with a soapy cloth and dry immediately after (dishwashers may harm steel cutlery over time).
This item has FREE shipping within the United States!
Shipping & Returns

Free shipping within the US. International shipping available for a fee. 30 day return window for a full refund.
Care Instructions

Always wash by hand immediately after use and dry the product thoroughly with a soft cloth or towel. Never leave the product soaked or with small droplets.
Share
View full details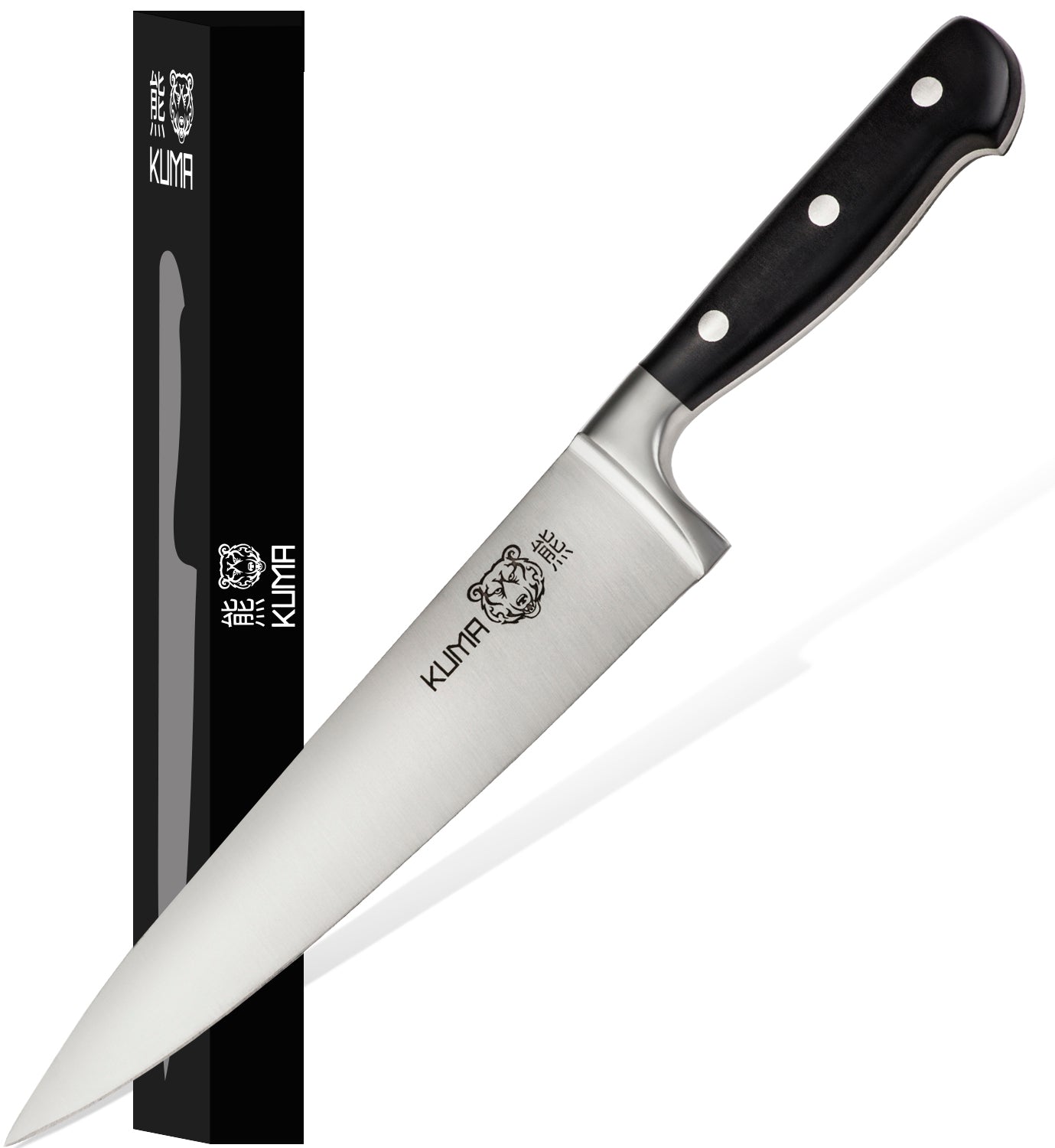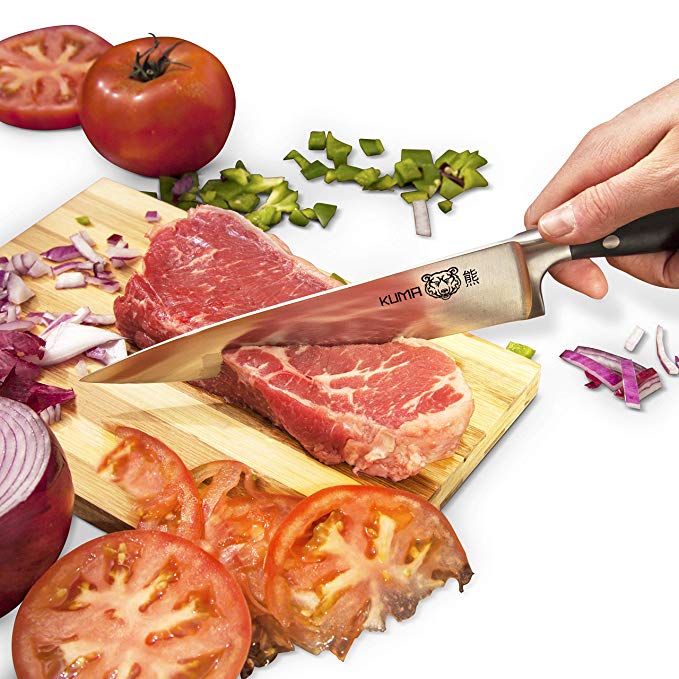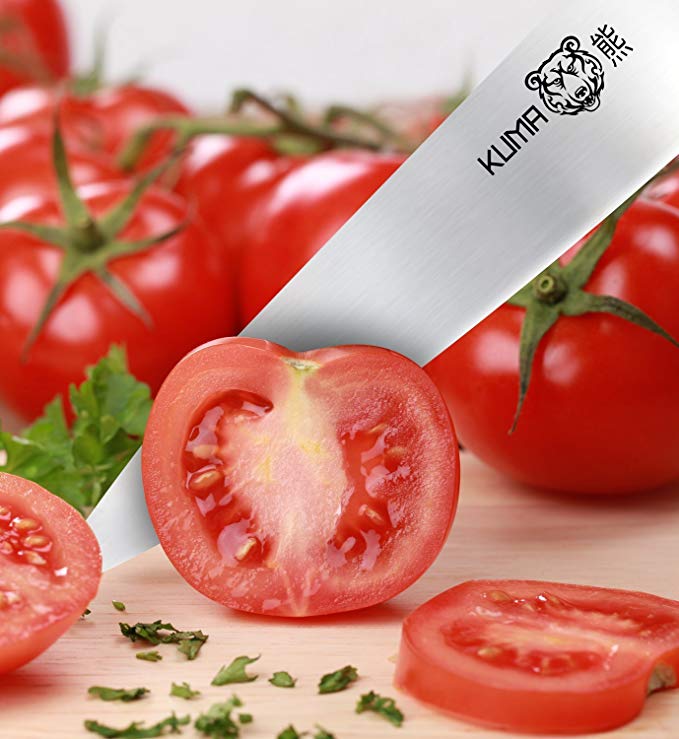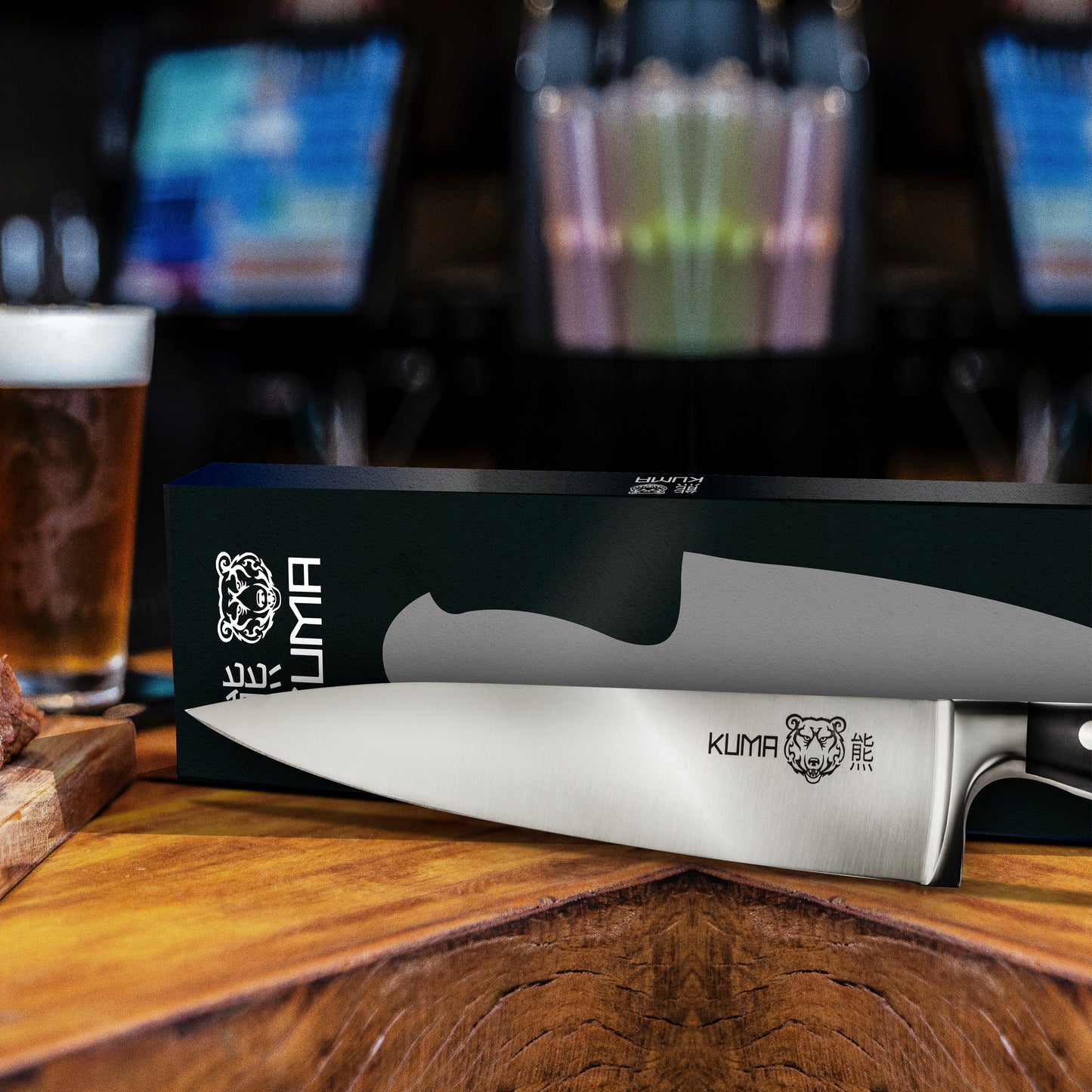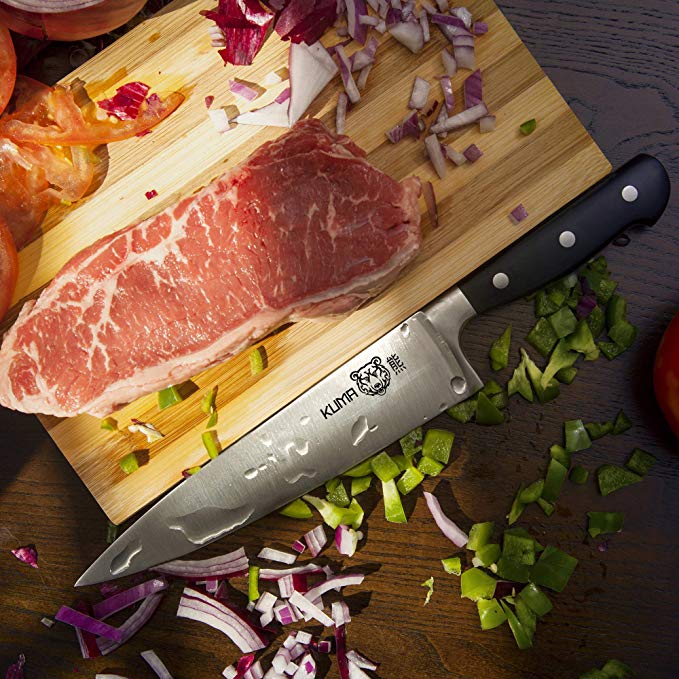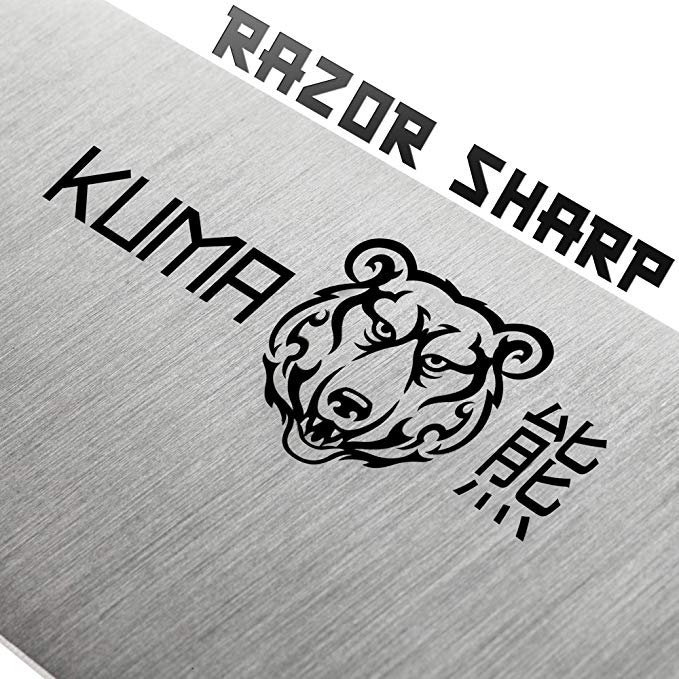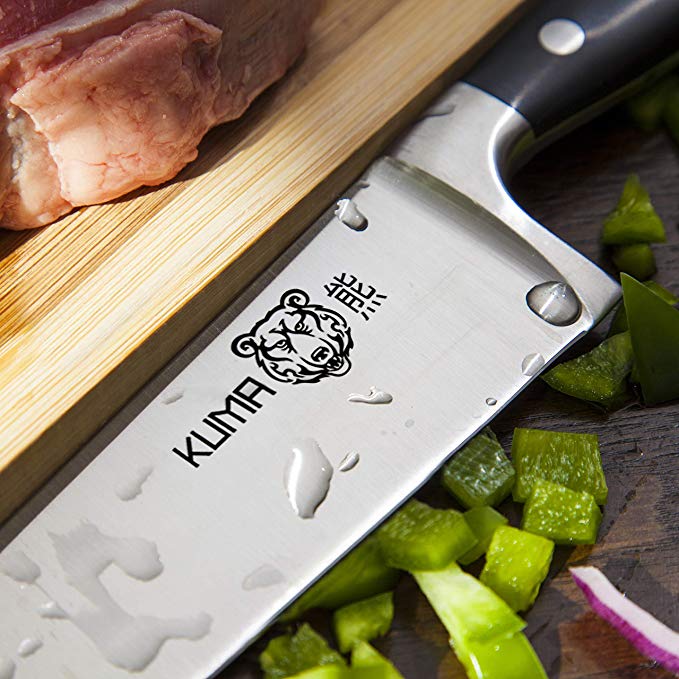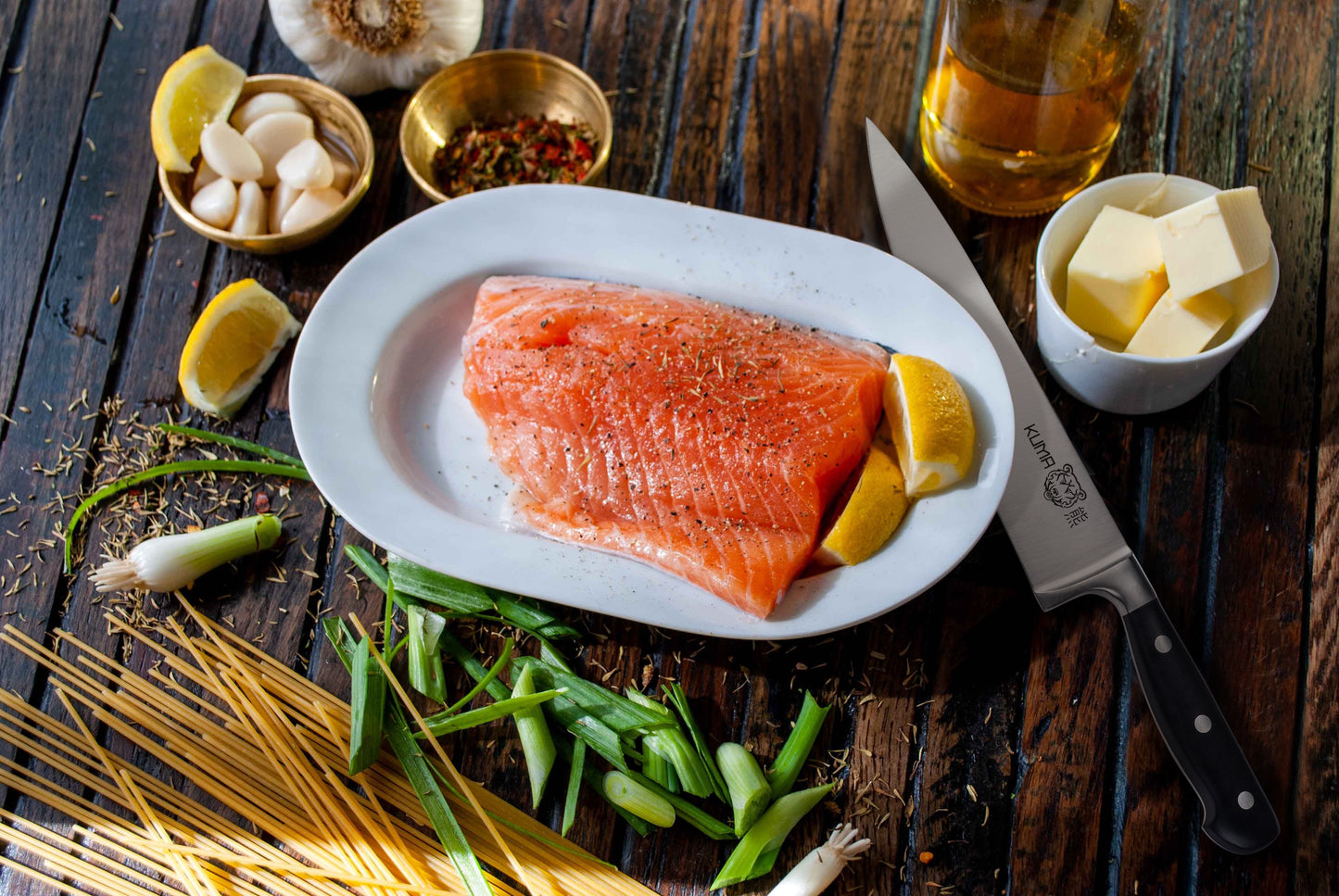 Free Shipping

FREE shipping on all US orders.

Hassle-Free Returns

Your satisfaction is our priority and we happily accept proruct returns.